Honda CBR250R is entering an Indian market which has for years relied either on Royal Enfield and Bullet brands or expensive, imported BMW bikes in the high-performance two-wheeler market.
Honda CBR250R will hit Indian roads in May and will redefine the sports bikes market with a price-tag much lower than comparable imported bikes. Â The high-performance bike will be produced in India and Thailand and supplied worldwide.
Even before the company officially announced the price, the bike had already attracted 3000 bookings and is expected to sell ten times more in the first year. The bike has a single-cylinder 250cc engine which goes from 0 to 10km/h in eight seconds, and has a maximum speed of 160km/h. It will be available in three colours – silver, black and red.  Whoever was in charge of the design and cad drafting of the motorcycle did a great job.
There will be no launch event for the bike following recent earthquake in Japan. "Due to the earthquake/tsunami in Japan and the loss of life, we are not conducting any launch event," says Shinji Aoyama, President & CEO, Honda Motorcycle & Scooter India Pvt. Ltd.
"However, …to meet the expectations of existing customers, our second manufacturing facility at Tapukara, Rajasthan will soon be operational from early 2nd half of 2011 taking our total production capacity to 22 lakh units in FY 2011-12."
The company has done well in keeping the price affordable for a large segment of two-wheeler lovers.  "With price starting Rs. 1.51 lakh Ex-Showroom, Mumbai, CBR 250R truly is India's first affordable Global sports bike," says N.K. Rattan, Operating Head – Sales and Marketing, Honda Motorcycle & Scooter India Pvt. Ltd.
With the production beginning in April, CBR 250R will be available to customers from mid-April 2011. "We shall be providing availability by the end of April, 2011 at 400 Honda Exclusive Authorized Dealerships (HEADs) across India. We plan to sell 30,000 units in the first year."
Honda CBR250R is Honda India's largest displacement two-wheeler

With CBR250R, Honda enters India's high-performance two-wheeler niche

The production begins in April 2011

The bike will be produced in India and Thailand and sold worldwide

Owing to the Japan earthquake and tsunami, Honda will not host a launch event

The bike will be on Indian roads in late April or early May

The bike already has 3000 bookings in India

Honda expects to sell 30,000 bikes in India in the first year

Honda is the largest producer of two-wheelers in the world

The two variants will be sold for Rs 1.51 lakh and Rs 1.70 lakh (with ABS) ex-showroom Mumbai

Specs: single cylinder, 4-valve, 250cc fuel injected and liquid cooled DOHC engine; peak power of 26PS
HERE'S HONDA MEDIA RELEASE
Mumbai, March 22, 2011: Honda Motorcycle & Scooter India Pvt. Ltd. (HMSI), the 100% owned 2-wheeler subsidiary of the Honda Motor Company, Japan – the world's largest manufacturer of 2-wheelers, shall release its long awaited global Road-Sport motorcycle "CBR 250R" in April, 2011.
Honda's first affordable global sports bike – CBR 250R marks the Company's entry in high performance 250cc segment in India. CBR250R will have the largest engine displacement of any vehicle produced by HMSI. Taking India to the global platform, CBR250R will be exclusively manufactured and exported worldwide from India &Thailand.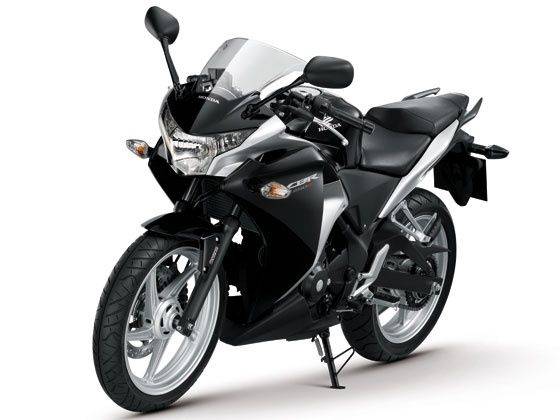 BACKGROUND
Honda's development team realized that riders now want much more and demand for 250cc models is higher than ever. Based on understanding customer needs, the goal was to create a 250cc model that can meet the bring the fun of riding to riders of all kinds, ranging from entry level riders who aspire to upgrade to seasoned riders who already have the large motorcycle experience. Thus came CBR 250R- the perfect companion of riding enthusiasts who desire 'To Know the Unknown.'
LIGHTNING PERFORMANCE
The newly developed liquid-cooled 250cc 4-stroke 4-valve single-cylinder DOHC engine of CBR250R delivers excellent performance of 25 BHP and is easy to handle.
ADVANCED TECHNOLOGY
With 27 pending patented technologies, CBR 250R is a bike of many technological firsts.
CBR 250R is world first in high performance 250cc category incorporating Combined ABS . Making CBR 250R more Eco-Friendly are the electronically controlled fuel injection system PGM-FI , O sensor and catalyzer which meet Euro 3 Emission standards.
GLOBAL STYLING
Inspired from Honda's global fun bikes VFR 1200F and CBR 1000RR Fireblade, the sporty full-cowl body and distinguishing Y-shaped headlights of CBR 250R present a highly advanced design full of functional beauty. The aerodynamic layered style fairing and cowl design enables optimal control of wind both for engine cooling and ride comfort.
Upping the style quotient of the bike are 5 spoke aluminum cast wheels, tubeless tyres, stylish rear grip and sporty split seat. Lending a futuristic effect is the brilliant blue LCD backlit instrument panel while completing the feel & sound are the elegant triangular muffler and compact exhaust system.
HIGH ON COMFORT & CONVENIENCE
CBR 250R's slim and compact single-cylinder engine reduces front projection and provides abundance of comfort through telescopic front suspension with 130mm stroke and highly flexible seating position. The light and compact frame of highly rigid diamond shape in a truss structure, offers easy handling and steady control as sports model. Upping the user convenience quotient is lockable utility space under pillion seat and easy to maintain center wet air cleaner with viscous element.
CBR 250R makes its stylish debut in three stunning two-tone hues- Candy Ruby Red& Accurate Silver Metallic, Sword Silver Metallic& Accurate Silver Metallic, and Asteroid Black Metallic& Accurate Silver Metallic.