"Have you ever stopped by a tea stall to save a kid from child labour? Probably you were getting late for work and ignored it.
These questions are being asked by BlogAdda and Tata Tea 'Jaago Re' joint campaign to cure and prevent people from Too Busy To Care syndrome.
As part of the  Too Busy To Care campaign, Indian bloggers will volunteer and act for coming out of the To Busy To Care syndrome.
The campaign aims at awakening more people to start caring about the things around them. Indian bloggers will now use this platform to share stories and collectively voice their opinions to connect, volunteer and act for coming out of the Too Busy To Care (TBTC) syndrome.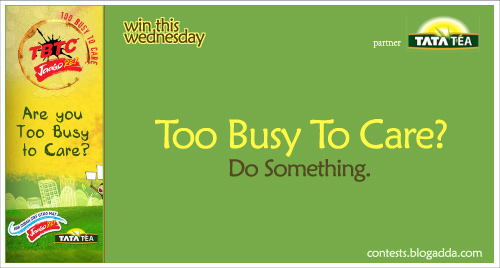 Did you get out of your car to help someone in a road accident; or assist an old man cross the road? Maybe you had to reach home to watch your favorite TV serial or cricket match.

Perhaps you never bothered when a beggar was dying of undernourishment.
"I feel the message that the campaign is trying to give out is very important as it is often overlooked by people in their day-to-day lives," says Nirav Sanghavi, founder BlogAdda.
"We need to take time out from our busy schedules to help someone and do something for the society. I support this campaign and would appeal to all bloggers and people to join hands to do 'that something' and act!"
"Our latest campaign is to encourage people to rid themselves of the TBTC syndrome – Too Busy To Care syndrome – and go out and do something for the cause they feel passionate about," says Sushant Dash, VP Marketing at Tata Global Beverages.
"We seek the opinions of bloggers who, with their reach and individual expressions would help spread the word as well as aid the eradication of the TBTC syndrome. The TBTC Blogger Contest on BlogAdda, we hope will help us achieve the same."
Bloggers will share their stories at BlogAdda and will be able to act on something which they wanted to, with the help of Jaago Re! More details are available at BlogAdda.
One of the reasons many Indians settle overseas is often because of the citizens' lack of civic responsibility.